Robert L Promotions LLC
We have a simple, yet thorough process to help you define your brand's goals. We will work within your budget to produce the perfect branded giveaway for your company.
After discussing your marketing and branding objectives with one of our experienced consultants, we'll take care of the rest:
From ordering samples…
to art requirements…
to production…
to shipping and delivery…
Utilizing our 10-step quality check system (10 SQCS), we will ensure prompt delivery of our highest quality branded products. Consider us an extension of your own marketing team – call us to talk about your marketing goals, and we will take care of the rest.
Featured Item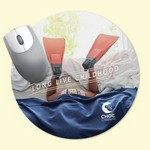 Barely There™+BW130 8" Round x.02...
These popular Barely There™+BW130 8" Round x.02" Ultra-Thin Mouse Pads deliver huge impact in an ultra thin profile. If your promotion involves a mailing or an insert, thin, lightweight Barely There™ ...
$2.08 - $2.67
What Our Customers Are Saying
I have been working with Robert L. Promotions for about five years now, but as a Company Sirius has worked with them in total ten years now for all our marketing needs. One of the biggest factors in g...
Diane Kraft
Sirius Group
Mar 15, 2017